Legrand's 1/3
Exhibit # 11
The lobby of the Legrand's house clearly show the lifestyle of the owners: marble fireplace, beautiful stone staircase, molded ceiling. On the console, you are attracted by an open notebook: register of visitors. Madame Legrand keeps an exemplary log. How lucky you are! You immediately discretely cast a glance at the details of the week.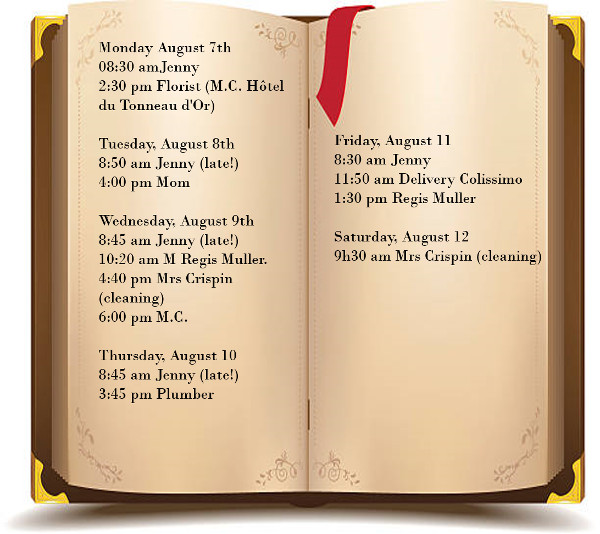 Exhibit #12
The ultra-modern phone does not look at its place with the art deco style of the house. He is located in the entrance, at the sight of all visitors. The voice mail light flashes. You just cannot resist: as Mrs. Legrand prepares a coffee in the kitchen, you try and listen to the messages.
Text transcript of the voice mails.
"You have 2 saved messages.
Saved message.
Wednesday, 9th of August 11:28 am
I hold your daughter Melusine. She is in good health ... for the moment. Prepare 2 million euros in cash for me to release her. One word to the police and I execute it. Other instructions will follow. Her life is in your hands.
Saved message.
Thursday, August 10 13h06
If you want to see your daughter alive, leave the money Saturday midnight under the 4th arch of Bons Enfants street. If you talk to anyone, I'll kill here. If you're late, I'll kill her. If the total sum is not there, I kill her. Do what you have to do otherwise you will have blood on your hands. "